Featured Item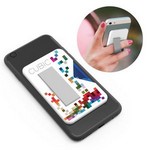 Clutch : Phone security strap and cardho...
A great addition to any phone, the Clutch is a combination security strap and wallet. Clutch safely adheres to the back of your phone or phone case making it a universal fit. Can be removed with no st...
$8.33 - $9.00
Welcome!

Promoting your business is important to you...Helping you succeed is important to us.

The specialty advertising field is your way to get the promotional products you need to attract the clients you want to your company. They can be used to generate new business, increase repeat business, for fundraisers, company picnics, and trade shows. Items imprinted with your company name goes a long way to reaching your target audience and attracting them to your business. Promotional products reach those who may never see a traditional ad or media publication. Handing a potential customer a FREE gift and thanking them for their time will speak volumes and will be the first step into creating a new customer. Thank you and enjoy!
Signature Showrooms